Sinclair student portal is the main learning system of Sinclair Community College. It can be used in a variety of ways. This is the main source that provides students the ability to study and earn a degree online, through the portal. In order to use it, students must register and create their accounts.
The portal offers many useful tools to the students, which makes learning at SCC even more easier. Here are a few things that users can do by the help of the portal:
Participate in discussions
Check their assignments and submit them
Complete quizzes
View their grades
Communicate with other students
Look through a course catalog
Get access to many great learning materials
Moreover, you get access to all those features 24/7 and with its great customer support. Are you tired of learning in a standard classroom? Well, this powerful tool gives you an opportunity to plan your courses and learn at any place that you like, it may be at a park, near the lake, or at your dorm room. You can even access your learning materials on your phone by downloading the mobile app. Take advantage of this awesome website!

Contacts of the Sinclair Portal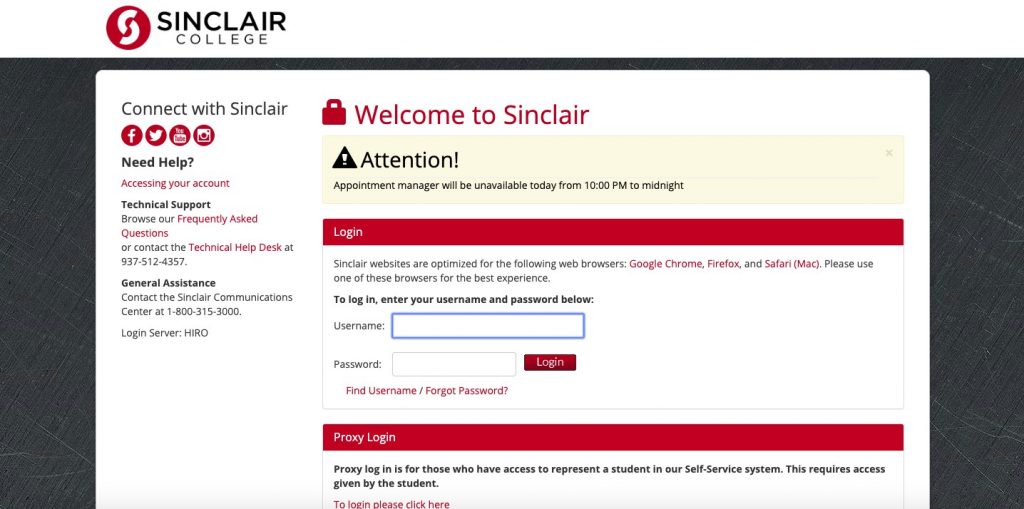 The following contact information is provided by the portal:
About Sinclair Portal
This portal is very convenient to use. Its design is very user-friendly. And the best thing about it is that it has a mobile app that any SCC student can download.
The whole website's navigation system consists of the minibar and the navbar. The minibar is located at the top of the page. From the minibar, you get redirected to the eLearn homepage, the course selector, alerts, and your personal menu with your account details, notification, and profile.
Navbar is located right below the minibar. It can change depending on where you are at the portal, but usually, it has such parts:
Financial Aid
MAP
My grades
Registration
eLearn
MySinclair
My courses
Notifications
Tartan Card
Others
From the portal, you can access the learning platform eLearn. This webpage has great online courses, your course schedule, attendance records, and your grades. Another way to access the learning tool is to download the Pulse App. It provides a view of course calendars, readings, assignments, evaluations, grades, and news. But, as we already told you, in order to use all these educational sources, you must be registered.
If you have any problems and need help with registering or logging in, contact the Sinclair Help Desk.
Program Description of Sinclair Community College
If you wish to learn a new skill, improve the ones that you have, get qualified for the dream job or begin your career, SCC is here to help you with more than 220 degree and certificate programs to choose from in a variety of areas across technical and academic subjects. Can't decide which academic path to pursue? Contact the college's academic advisors, they will help you with all your questions and provide all the needed information to make the right choice. Also, SCC has a lot to offer for students who wish to study abroad. There are wonderful student enrichment programs that are designed to prepare youth for higher education.
Or maybe you wish to start lifelong learning? Take the non-credit courses. There is a variety of topics to choose from, and mostly they are free or for a modest fee.
If you want to get an associate degree, here is a list of some of the programs provided by this institution:
Accounting
Art
Aviation Technology
Biology
Business Management
Chemistry
Creative Writing
Data Analytics
Elementary Education
English
Geology
Human Services
Interior Design
Legal Studies
Mechatronics
Music
Physics
Public Health
Real Estate
Social Work
Surgical Technology
Theatre Technology
Veterinary Technology
The bachelor degrees offered by SCC are Bachelor of Applied Science in Aviation Technology and Bachelor of Applied Science in Unmanned Aerial Systems.
If you wish to continue your learning path online, the college has more than 200 choices for you. You can choose from associate degree programs, one-year technical certificates, short-term technical certificates.
Some of the certificate programs include:
Agribusiness
Arts Management
Basic Drawing
Call Center
Coaching
Corrections Officer
Crime Mapping
Digital Design
Dining Assistant
Family Advocate
General Education
IT Fundamentals
Law Enforcement
Medical Scribe
New Media
Paramedic
Professional Pilot
Retail Business
Supervision Foundations
Tax Practitioner
Web Programming
About Sinclair Community College
SCC is a public community college located in Ohio. When it was founded in 1948, it was an adult training school. It is named after David A. Sinclair, a Dayton secretary that founded that school. Nowadays, it is a higher educational establishment that offers over 220 various degrees and certificates. Its student to faculty is the lowest in Ohio, 19:1. More than 3,500 SCC students after earning their associated degree transfer to a different institution for further studies.
It is also a very diverse college. It has around 1,200 students from 95 countries.
There is always something going on at the institution. It has plenty of activities and clubs and organizations to suit everybody's taste. If you're an art person, you can visit an art exhibition, go to a musical performance, or go to the theatre. There are also a lot of sports to choose from – basketball, softball, volleyball, and others. Feel free to participate in various seminars, and workshops. Do you just love Greek Life? SCC has many sororities and fraternities to choose from. You can also join a student club or organization, or if you haven't found anything that you like, start your own. Here is a short list of clubs and organizations that are available in such areas – American sign language, art, chess, Chinese culture, international student, Muslim student association, psychology club, social work club, student medical assistant association.
Reviews for Sinclair Community College
A big part of the students says that the college was very good. It is easy to maneuver and the staff is friendly and easy to work with. And the best of it is that the institution is improving every day.
It is not so expensive and the cheapest way to get a college degree in that area. The professors that work there really care about the student's well being and education. The campus is located in a great place and is very safe and clean. Also, a great plus of the campus is that all the buildings are connected, and it is raining, you won't get wet.
Students are very happy with the choices that they have here. The college offers not only on-campus programs but also online learning. And most of the credits are transferable. The college has plenty of resources to help learners succeed in their studies and to graduate on time.
Most of the employees were satisfied with working at SCC. But part-timers say that they would like to have some benefits. But the management is pretty easy going. Sinclair is always on the student's side and wants to meet their interests.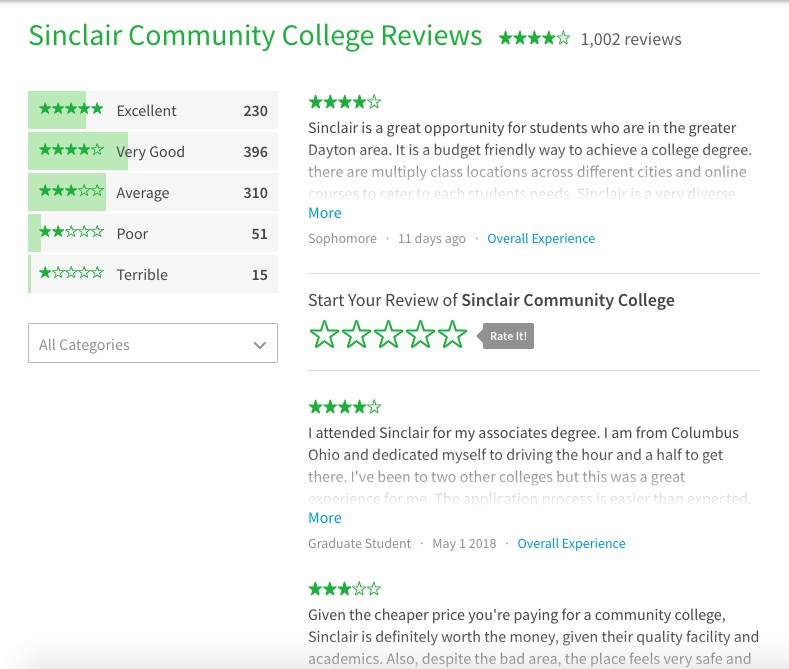 Pros and cons of Sinclair Community College
It is impossible to give an independent review of an educational institution, which is the reason why we prepared this pros and cons list. We left it up to you to choose your side.
Pros:
Cheapest one in the area
Great teachers
Safe and clean campus
Perfect place to get started
Cons:
Non-academic activities need some improvement
A bit of a challenge to register
Only full-time employees have benefits
Hard to get promoted
Does Sinclair Community College have a campus?
Yes, there are buildings in Dayton, Centerville, Englewood, Huber Heights, Mason. Also, SCC offers online learning opportunities.
Tuition and Fees in Sinclair Community College
Per credit hour fee for Montgomery County residents is $116,03, other Ohio residents $163,28 and out-of-state and international students the tuition is $299,40. This tuition includes an instructional fee, general and technology fee, and career services fee. Information about the additional fees can be found on the SCC webpage or by contacting the college directly.
You can apply for financial aid or choose from the different scholarship options. Usually, scholarships are given to special students that are qualified academically or are athletically or artistically talented. It doesn't matter whether you are a high school graduate, a new student or a returning one, the college has options for everyone.
Conclusion
Do you want to view your grades? Wondering what is your course schedule for the next week? Want to apply for financial aid? Are you bored and looking for something fun to do on-campus? Or maybe you are looking for a simple way to access your learning materials? Log in to the Sinclair student portal and see for yourself that this simple to use website has all that covered. Don't waste your time looking for who to ask all those questions. There already is a great and powerful tool for those tasks.
Besides, from the portal, you can reach the eLearn educational system. Though that website you can even earn the desired degree. And what is really convenient, is that the college if trying to make studying as simple as possible and created mobile apps both for the portal and for the eLearning tool.
We hope that you enjoyed our review on the Sinclair student portal. Don't be lazy, fill out that simple registration form and take advantage of all that useful information that the portal has created especially for your needs!