Most of the respected educational institutions have a student portal. Usually, it is a place where important information regarding financial, personal and academic aspects of studying in a college is located. MyNGU portal is not an exception. Do you want to know which professor will teach the next class? Want to quickly find info on your major? Or maybe view your recent payments? Log in to the portal at the top of the screen and get access to that information.
From the portal's home page, you can quickly access NGU website, Blackboard, CrusaderMail, campus map and academic calendar. Also, on the right side of the webpage, there is information on how to log in from the IT services. To use the database in its fullest capacity you must log in. If any issues occur during the login, contact the IT Services Help Desk.
Are you looking for a class schedule? Want to view your attendance records? Need information about the working hours of the business office? Check out the myNGU portal website, it contains answers to all of your questions regarding your study at the college. The student portal allows you to view your current academic information, student account information, financial aid details, access various forms and reports, register for classes, and a lot more. Take your time to get to know the website and you will never regret using it.


Contacts of the myNGU Student Portal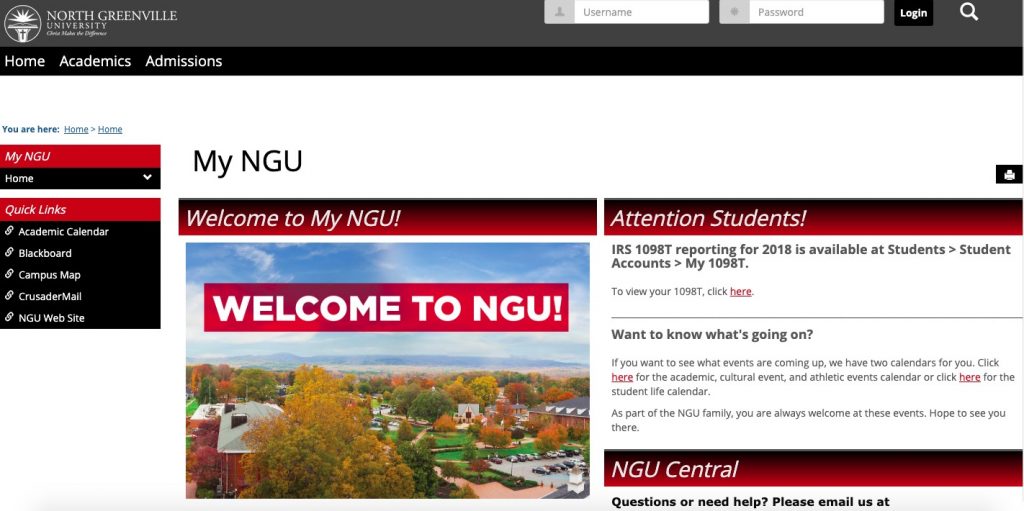 The following contact information is provided by the portal: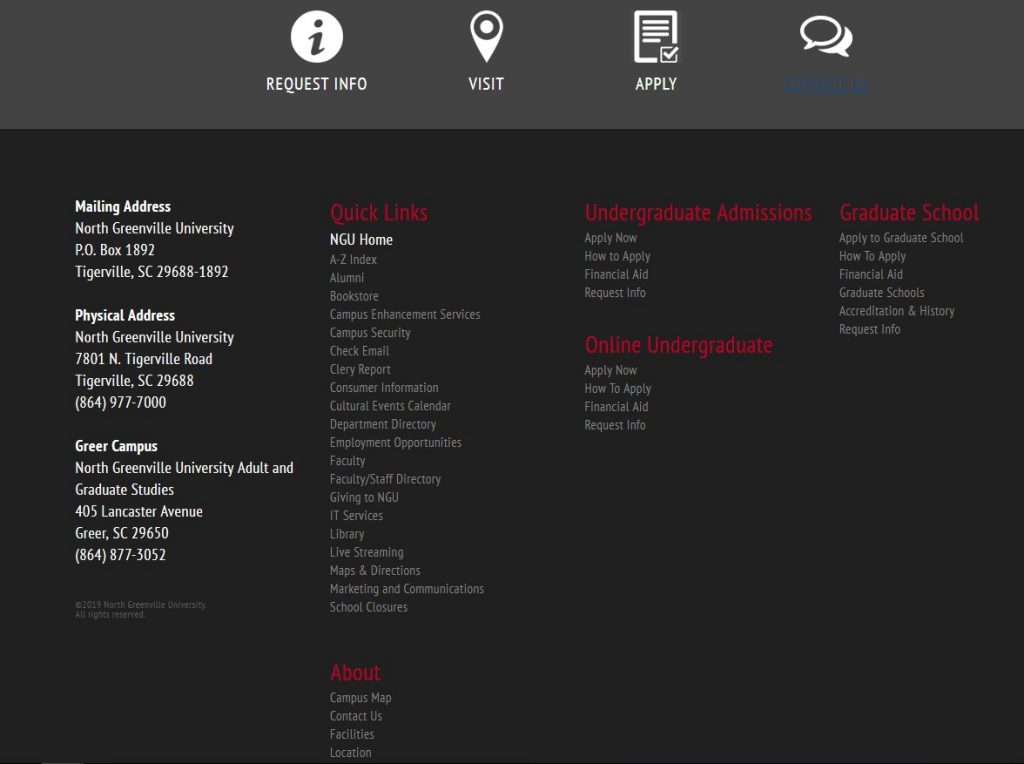 About myNGU Student Portal
The portal has a simple design, which makes it very easy to spot the needed information. Moreover, the navigation of the website is easy to get used to. And a big plus is that the portal has a mobile-friendly version, which means that you can use your phone to access all the information from any place that you want.
The whole website is divided into tabs. After you log in, the portal home page will have the following tabs at the top of the page – Home, Students, Campus Life, My Pages. When you click on any of those tabs, you'll see that at the left-hand side there will also be different sections of the page. For example, when you open the Students tab, such sections of the webpage will appear – Student Home, Advising and Registration, Student Accounts, Financial Aid, Residence Life, Forms and Information. Besides, you'll find the course schedule and announcements with due dates on the page. Also, you can register for courses, add/drop courses, view advising information and schedule an advisor meeting.
Do you want to view your account balance? Make a payment? View financial aid package? Or quickly access the tuition and fees rates? Go to the Financial aid tab and all those details will be right at your fingertips.
If you stopped using the portal, but haven't closed the website, the portal session will time out and you will be asked to log in once more. Also, the thing that makes navigation through the website better is the breadcrumbs. You must use them when navigating backward.
Program Description of North Greenville University
NGU offers degree programs at undergraduate and graduate levels. Besides, there are degrees for adults and online undergraduates. There are more than 50 programs to choose from.
Here is a list of some of the undergraduate programs that are available on campus:
Accounting
Biology
Broadcast Media
Business Administration
Christian Studies
Communication
Early Childhood Education
Elementary Education
English
Health Science
History
Intercultural Studies
International Business
Marketing
Mathematics
Media Ministry
Music
Physical Education
Political Science
Psychology
Social Studies Secondary Education
Spanish
Spanish Education
Sport Management
Studio Art
Theatre
Youth Ministry
If you are sure that you want to apply to NGU and want to view the full list of programs available, request the information through the college website, or contact the institution directly by calling.
If for some reason you can't study on-campus and wish to learn online, NGU also has something for you. It offers online programs to adults who want to earn their undergraduate degree. Also, it is possible to earn a professional certificate in various fields.
Students that wish to gain a master's or doctorate can choose from the following programs:
Master of Business Administration
Doctor of Ministry
Master of Arts in Christian Ministry
Master of Divinity
Master of Education
Doctor of Education
Master of Medical Science – PA Medicine program
Master of Music Education
About North Greenville University
NGU is a private liberal arts educational establishment. Moreover, it is one of the most notable Christian universities in the nation. The core values of the college are Christ-centered, biblically faithful, academically excellent, and mission-focused. Those values help to equip leaders for both church, and society.
The university began its work in 1893. It was established by the North Greenville Baptist Association. From that time till nowadays, the institution has been reaching its goals and fulfilling missions. It offers programs that lead to earning bachelor's, master's, and doctorate degrees. They provide high-quality education for every student and do everything to meet the needs of gifted students.
Reviews for North Greenville University
Almost every student that gave comments about their study at NGU said that they had a great time there, and they truly recommend it. Being in a Christian environment helped them to grow in faith and meet people that made them better Christians. But what students enjoyed the most is the campus. They could tell that there was a presence of God. They state that there is nothing that they would like to change in NGU. It was the best place for them to concentrate only on academics.
The professors are especially great there. Everybody is very helpful and kind, when you feel sad they always cheer you up. The establishment is filled with loving and cheerful people. The classes are small, which is a good thing because this allows you to communicate with the professors on a deeper level.
The two things that may need improvement are the dorms and food. Students complain that the food is not healthy and there is little to choose from. Also, there is no Greek Life. But, everyone understands that food and dorms are not the most important part of studying at NGU. The professors, academics, and atmosphere are what really matters.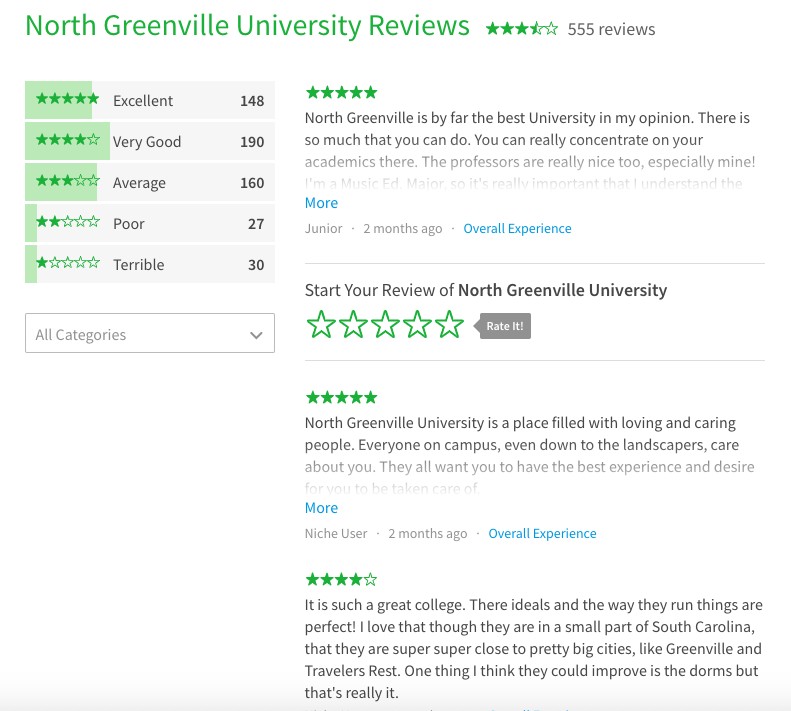 Pros and cons of North Greenville University
It is next to impossible to state only positive or only negative features of an educational institution. Which is the reason why we offer a pros and cons list.
Pros:
Great academics
Small class sizes
Caring and qualified professors
Christian environment
Safe campus
Cons:
Dorms need some improvement
Food
No Greek Life
Does North Greenville University have a campus?
Yes. Moreover, NGU consists of several specialized colleges. They are College of Business & Entrepreneurship, College of Wellness & Sport Professions, College of Christian Studies, College of Education, College of Communication &Fine Arts, College of Humanities & Sciences.
Residing on campus is like being part of a special community. If you plan on staying at one of the residential houses you can schedule an appointment to view your room.
Besides, there is a lot to do on campus. There is a variety of activities offered by the Activities Office, such as movie nights, concerts, different table games, air hockey, and many more. Students can choose from many intramural sports, such as volleyball, softball, football, Frisbee, others. To view the full list, go to the NGU website.
Tuition and Fees in North Greenville University
Expenses for undergraduates, which include tuition, room, and board, for the full academic year, is $31,360. Tuition per semester hour for online learning students is $425, plus technology fee and diploma and commencement attire. The tuition and fees for graduate students vary according to the graduate school type.
To get a detail description of all fees, visit the NGU website, myNGU student portal, or contact the university.
Conclusion
Do you wish for all your educationally related information to be in one place? Well, it already is. The myNGU student portal has that covered. It is a massive source of all your financial and academic details. Through the website, you can get to your financial aid info, make payments, search for courses, and more. You can use the webpage to view your housing information, request an official transcript, print an unofficial one, set FERPA permissions.
Even if you don't log in, the portal still has plenty to offer. It is possible to request information from the admissions office, view campus directory, read details about NGU, or if you are only planning to apply to the college, check out the degrees offered by it.
But to get all the essential information, you must log in. The portal will make your life at NGU a lot easier. Even if you are interested in getting some kind of financial aid, feel free to do it through the portal. It gives you plenty of details about all sorts of aid and offers you forms and instructions to receive it. And that is one of the many things that you can do via portal. Log in, explore, and see for yourself how helpful this source is.